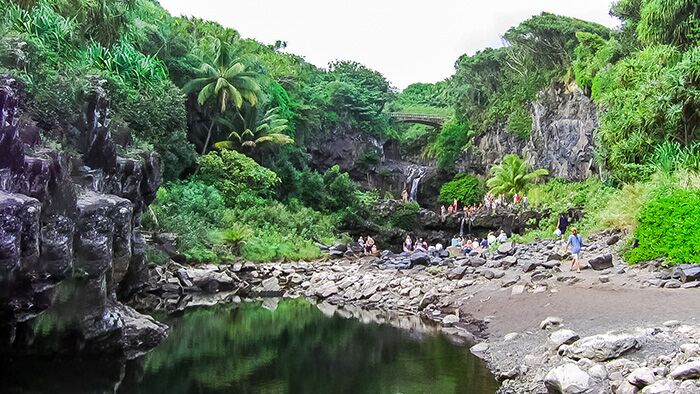 Kipahulu area of Maui.
Many Roadside Attractions on Maui to Choose From
Planning a road trip to Maui? One of the best things about driving anywhere is discovering fun things to see or do along the way. If you plan to drive through the Valley Isle of Maui, here are some of the best attractions on Maui.

Geste Shrimp
Famished on your way to or from the airport? If so, you'll want to grab a bite from a roadside food truck called Geste Shrimp located in Kahalui. The humble food truck might not look like anything fancy on the outside. But its food had been rated at 4-star quality. If you are looking for comfort food, try a slice of their fresh hot bread. If you need a lighter pick-me-up, their smoothies and jumbo shrimp make the perfect tropical snack.
Ahihi-Kinau Natural Area Reserve
Cruising along the Makena Road? If so, take in the views of this jagged terrain of lava and surrounding marine habitat. An eruption from Haleakala created these expansive lava fields and are definitely worth seeing.
Ali'i Kula Lavender Farm
Visitors driving along the Hana Highway can Highway 37 to get to Ali'i Kula Lavender farms. For a modest admission fee, you can take walking tours of the farm while. In addition, you can take in deep breaths of refreshing lavender scented air. Here, the aromatic smell of lavender is soothing and relaxing. And it benefits anyone feeling run-down or car sick.
Huelo Lookout
Along the Hana Highway, there are many opportunities to take a break from the winding, narrow road. We recommend stopping at Huelo Lookout. Nearby is a popular fruit stand. At this place, travelers can enjoy fresh pineapple smoothies while checking out the amazing views.
Half Way Point to Hana
The Hana Highway itself is one of the great attractions on Maui. But at mile marker 17.5, you'll find another great stop along this iconic roadway. Here, visitors can sample fresh baked banana bread, home made ice cream, local fruits and more. As the half way point to Hana, this is a great place for a pit stop.
Upper Waikani Falls
The Hana Highway is known for dozens of bridges and stunning waterfalls. At mile marker 19, you can pull over and walk toward the Upper Waikani or 3 Bears Falls. At this location, you can get close-up views of one of the most picturesque waterfalls in the area. This is definitely a photo-op you won't want to miss.

Wai'anapanapa State Wayside Park
Around mile marker 32 on the road to Hana, one of the most beloved views of Maui's black sand beaches is just a few steps away. Here, there are sea caves, hiking trails, blow-holes and lava tubes to explore. If you haven't seen an actual blow-hole first hand, then this stop is a must. The stark contrast between the blue water, white sea foam and dark lava-rock sand is utterly breathtaking. And it will command your attention for a good stretch of time. Save one of the snacks you picked up on the road and have a picnic at this park.
Ohe'o Gulch
Those who venture past the town of Hana should definitely stop here. This may be one of the most popular roadside attractions on Maui. This is the spot to view the idyllic and serenely beautiful Seven Sacred Pools. Plus, this area is part of world famous Haleakala National Park. Here, you can also explore the Pipiwai Trail and trek through bamboo forest to Waimoku Falls, on what is about a 4 mile round trip hike.